We are Choke Print Shop
We love simple, interesting design and affordable, comfortable t-shirts. And mid-afternoon frozen treats.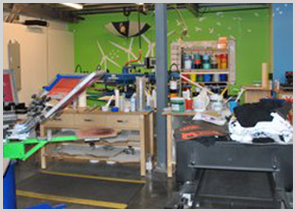 Choke is based in Seattle, WA. Matt and Jeff started our little shirt company out of their apartment in Seattle's Fremont neighborhood after checking out many local t-shirt companies who frequently sold their wears at farmer's markets. Like many great ideas, ours started out with a "we can do better" attitude. In 2008, we launched our first collection of designs online and at our semi-permanent spot (#11) at the Fremont Farmer's Market.
In early 2009, due to a lack of creative control, we bought our first screen printing press and rented a 400 square foot studio space in Seattle's SODO neighborhood and began printing our own tees. With no windows or ventilation, we sweated through our first summer producing new designs every couple of weeks. We opened a custom print shop (Choke Print Shop) and began printing tees for local customers who found our google listing and website.
In 2010, Jeff left his full-time job at Starbucks Corporate to manage the increasingly busy Print Shop. We took on as many jobs as we could find. At first we delivered most orders to our customers around Seattle, since our studio was admittedly, really awkward to find. That summer we participated in our first outdoor festivals, selling our shirts just about every weekend in a new location around town. Growing quickly, we hired our first employee. At the end of 2010, we moved into an amazing 1,500 square foot space just east of Qwest and Safeco Fields in Seattle. We took with us the largest Choke collection to date and a slew of customers who continued to support us.
As our online sales grew, we decided to branch out of the weekend markets and festivals and begin the process of finding retailers to sell our wears. After attending the Seattle Gift Show, we came away with several new retail outlets who believed that our tees were worthy of their empty hangers. All the while our Print Shop continued to grow. We hired our second employee: Brian. He brought with him an eye for design and a quick sense of humor. And the four of us would mold Choke into what it is today.
After less than a year in our new space, we moved next door to our current space. At 3,000 square feet, it was surprisingly quick how fast we filled up our new warehouse with a second manual press and our giant baby, an automatic screen printing press named Carl. To date we've printed tees for some of Seattle's largest corporations like: Starbucks, Amazon.com, T-Mobile; some of the greatest non-profits like: Lifelong AIDS Alliance, Pratt Fine Arts Center, Art 4 Justice; sports teams large and small like: the entire CVAC little league, Magnolia United Lacrosse; many other clothing lines like: Llama Farm, Libertees, Follow Me Teez; a slew of bands and artists: Furniture Girls, Camille Bloom, The Physics; and some of the most entertaining and supportive LGBT owned businesses and organizations like: The Yellow Leaf Cupcake Company, Diesel Bar, Washington United for Marriage, Seattle Out & Proud and Quake Rugby.
After 11 years in the business, we are here to continue the mission of Choke: presenting Seattle with quality, custom screen printed apparel, stickers and more!
Thanks for taking the time to learn a little more about us... but back to what you came here for. We print on hundreds of different types of tshirts, with lots of ink colors and techniques to choose from. It's best to contact us via email - printshop@chokeshirtco.com to get a quote for your next project. But we're more than happy to chat with you over the phone - 206-624-4444 or in person - 920 S. Holgate St, Seattle. We hope to hear from you soon!
- JEFF (co-founder)